Knocki tasks that rely on a 3rd-party service (such as toggling a Philips Hue light) can become unlinked from the 3rd party service for various reasons. In some cases, that service might have been manually unlinked by you via the app. In other cases, the service may have become unlinked for other reasons.
Relinking a Task
In the Knocki app, you can identify tasks that are unlinked by going to the gesture the task is assigned to, and observing a purple "Unlink notification bar" beneath the task.
To relink the task, tap the blue "Re-Link" option, and you will be prompted to sign in to the service that you wish to re-link. After signing into the service, the task should automatically relink.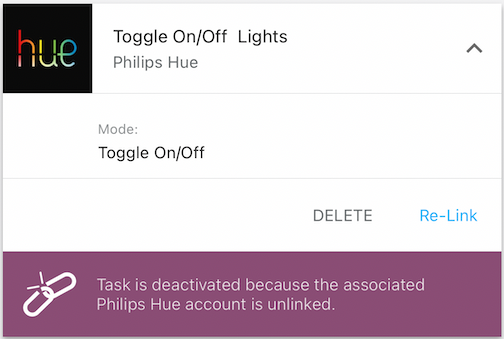 If. you see the purple bar, but don't see a relink option, please tap the arrow on the top-right of the task to expand the task card. The "Re-Link" option should then be visible.
For additional support, please reach out to support@knocki.com